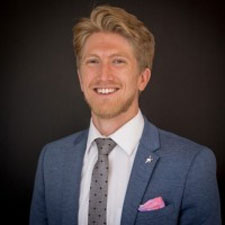 Alex Davison is the Executive Director of the Arthritis Foundation for Louisiana. Alex has a master's degree in public administration from the University of New Orleans, where he serves on the Alumni Board of Directors.
He was raised in South Lake Tahoe, California, and graduated from Cal State San Marcos before moving to New Orleans. He lives with his wife Ashley, his son Cooper, and two rescue pups: Abby and Bernie.
Here's a glimpse of what you'll learn:
Alex Davison talks about public and private collaboration today
The challenge of collaboration in the not-for-profit sector
How not-for-profit organizations with similar missions and goals are collaborating
Why not-for-profit organizations are competing for donors in the community
How fundraising is changing and how people are innovating to cultivate relationships
Alex talks about how to not get stuck in a silo and seeing what's not working
In this episode…
A lot of collaboration is going on in the private and public sectors, but we have yet to see not-for-profits collaborate enough to leverage scarce resources. Not-for-profit organizations aren't doing enough to see how they complement one another's programs rather than duplicate. As a result, they frustrate many donors who want to see a high level of collaboration for maximum impact.
How do not-for-profit organizations collaborate effectively, not just in applying for grants from funding foundations but also in working with donors in the community? How do these organizations change their methods and communications for the better?
Listen to this episode of Penny Cowden's Philanthropy212 Show featuring Alex Davison, who works as the Arthritis Foundation Executive Director for Louisiana. They discuss how not-for-profits should collaborate for fundraising to achieve their missions, how fundraising has changed since COVID-19, innovating and not getting stuck in a silo, and more.
Subscribe and Listen on:
Resources Mentioned in this episode
Sponsor for this episode…
This episode is brought to you by Philanthropy212, a fundraising consulting company focused on helping not-for-profit organizations build sustainable practices and programs that raise more than just money.
Philanthropy212's founder, Penny Cowden, has 25 years of experience in the industry and has helped raise more than $100 million for non-profits such as PeaceHealth, Sisters of Charity, Inova Health System, Banner Health System, and Sun Health.