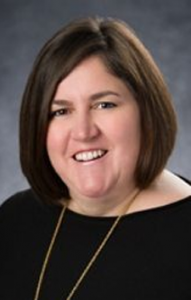 Jennie Boden is the Vice President of Strategic Relationships and Senior Consultant with Quantum Governance, L3C. At Quantum Governance, she's worked with clients as varied as Camphill Village, the Center for Arms Control and Non-Proliferation, and Children of Faith Missions as well as the Credit Union Executives Society, the Friends of the National Arboretum, and the Tipping Point Community.
She has more than two decades of experience in governance, strategy management, leadership, communications, and development expertise in the not-for-profit sector. Jennie has held every post in the sector from Executive Assistant to Executive Director.
Here's a glimpse of what you'll learn: 
Jennie Boden speaks on why governance matters in the not-for-profit sector
The responsibilities of a governing board
Strategies that help boards and CEOs strike a balance between staff-driven and board-driven organizations
How board members and staff are working together to strategize for the future
Governance structures that sustain a high level of communication between boards and staff members
The board's role in fundraising
Jennie talks about board recruitment techniques
Effective governance models
How Quantum Governance, L3C help nonprofit organizations
In this episode…
Nonprofit organizations are under all different kinds of stress as a result of COVID-19. There are the usual suspects: financial pressure after experiencing a severe drop in fundraising dollars flowing into the organization. There's also programmatic stress, given an extreme increase in the programmatic demands placed on the nonprofit sector.
Jennie Boden believes that nonprofits need governance now more than ever—especially if they wish to come out of these difficult times alive. According to Jennie, organizations need a board to steer and direct the ship constructively while influencing stakeholders to move things forward. What exactly should the board be doing? 
Listen to this episode of the Philanthropy212 podcast with Penny Cowden to learn about governance matters from Jennie Boden of Quantum Governance, L3C. She speaks about the governing board's responsibilities, the board's role in fundraising, effective governance models, and more.
Subscribe and Listen on:
Resources Mentioned in this episode
Sponsor for this episode…
This episode is brought to you by Philanthropy212, a fundraising consulting company focused on helping not-for-profit organizations build sustainable practices and programs that raise more than just money.
Philanthropy212's founder, Penny Cowden, has 25 years of experience in the industry and has helped raise more than $100 million for non-profits such as PeaceHealth, Sisters of Charity, Inova Health System, Banner Health System, and Sun Health.