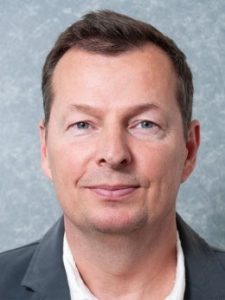 Robert Wicks is the vice president of philanthropy and CEO of the Gladstone Institute. Prior to joining Gladstone, he was the director of West Coast Advancement at Dartmouth College based in the Bay Area. From 2006 to 2014, he worked in a series of frontline fundraising roles for Stanford's Office of Development and the Graduate School of Business, specializing in the venture capital and entrepreneurial communities. 
Robert is a board member for YCore and has served as an advisor to the social entrepreneurs at the Draper Richards Kaplan Foundation, the Hasso Plattner Institute of Design at Stanford, and Care Message. Robert has a BA in English from Binghamton University and was a Ph.D. candidate in the English Department at UC Berkeley.
Here's a glimpse of what you'll learn:
Robert Wicks talks about how he got into fundraising and what design thinking means

How Robert structures donor-centered conversations 

Robert discusses how non-fundraisers can use conversational components through design thinking when they make an ask

What is tribal wisdom and why it's important

Leveraging the power of asking questions 

The seven conversations fundraisers need to get better at to be successful 

Why asking volunteers to help with stewardship is important for an institution 

Robert talks about the work and the goals of Gladstone Institutes Foundation
In this episode…
Are you always thinking of ways to improve your fundraising efforts? According to Robert Wicks, one of the ways through which you can improve donor communications and improve your fundraising strategies is by employing design thinking, a process that helps in creating concepts and ideas that are not only better but also more efficient and accurate.
Design thinking allows fundraisers to structure a donor-centered conversation and helps build the right momentum for the donor request. According to Robert, there are seven types of conversations that fundraisers need to get better at in order to become successful in their fundraising career.
Join Penny Cowden in this episode of Philanthropy212 as she discusses with Robert Wicks of Gladstone Institutes Foundation what design thinking is and the impact of structuring donor-centered conversations. They will also be talking about tribal wisdom and its role in the fundraising community and find out the different types of conversations that fundraisers need to be good at in order to improve their fundraising skills. Stay tuned. 
Subscribe and Listen on:
Reso
urces Mentioned in this episode
Connect with Penny
Sponsor for this episode
This episode is brought to you by Philanthropy212,  a fundraising consulting company focusing on helping not-for-profit organizations to build sustainable practices and programs that raise more money. Philanthropy212's founder, Penny Cowden, has 25 years experience in the industry & has helped raise more than $100 million for non-profits such as PeaceHealth, Sisters of Charity, Inova Health System, Banner Health System and Sun Health.