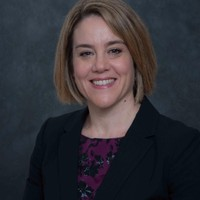 Andrea Davidson is the Vice President of Philanthropy at Sanford Burnham Prebys (SBP) Medical Discovery Institute. She's responsible for providing overall direction for advancing the institute's philanthropy goals and initiatives. 
Andrea joined SBP in 2017 from the University of California (UC), San Diego, where she served as Interim Associate Vice Chancellor of University Development and worked with a fundraising team that spanned the general campus and Scripps Institution of Oceanography. She led the development team to the most successful fundraising year in its history.
Andrea's first career was in medical surgical sales before making the transition in development. She earned her bachelor's degree in Business Administration and her MBA from Loyola Marymount.
Here's a glimpse of what you'll learn:
Andrea Davidson discusses how organizations can continue to raise funds while going through a transition in leadership

How do donors react to the lack of leadership and how do you handle it? 

The role of board members and interim leadership in addressing donor objections and questions

Some challenges that come with philanthropic efforts without a CEO and how professionals can continue their work despite the transition

Andrea talks about the importance of building relationships for your organization despite the changes in leadership

How to create rapport between new leaders and existing donors
In this episode…
Philanthropy professionals often depend on their leaders to interface and interact with donors as they pursue their fundraising efforts. This interaction helps donors feel included in the process and have some investment into the strategy and vision of the fundraiser. But what happens when a philanthropic organization is suddenly without a CEO? Is it possible for philanthropic professionals to continue raising funds while undergoing internal transition in leadership?
According to Andrea Davidson, the key to getting continuous donor support despite facing leadership transition is having a sound and genuine relationship with donors as an organization. She says that while leaders serve as the face of the organization, donors can rest easy if they know that they can rely on other members of the team to get things done.
In this episode of Philanthropy212, Penny Cowden interviews Andrea Davidson, Vice President of Philanthropy at Sanford Burnham Prebys Medical Discovery Institute, about the process and challenges of fundraising of raising money when there's a leadership gap in the organization, how to best address donor concerns in the face of the transition, and why it's crucial for fundraisers to build relationships not for themselves but for the organization. Stay tuned. 
Subscribe and Listen on:
Reso
urces Mentioned in this episode
Connect with Penny
Sponsor for this episode
This episode is brought to you by Philanthropy212,  a fundraising consulting company focusing on helping not-for-profit organizations to build sustainable practices and programs that raise more money. Philanthropy212's founder, Penny Cowden, has 25 years experience in the industry & has helped raise more than $100 million for non-profits such as PeaceHealth, Sisters of Charity, Inova Health System, Banner Health System and Sun Health.