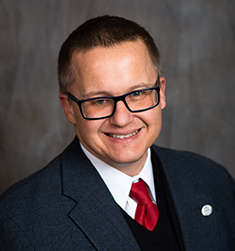 Bret Heinrich is the President and CEO of Wings of Hope, a 501(c)(3) organization that was founded in 1962, that changes and saves lives through the power of aviation. Bret also teaches masters' level classes in fundraising and not-for-profit work at two universities in St. Louis.
Wings of Hope operates the Medical Relief and Air Transport (MAT) public benefit flight program in the United States. It also works with partners to deliver humanitarian services on a global basis. The organization is a two-time nominee for the Nobel Peace Prize.
Here's a glimpse of what you'll learn:
[

00:27] Penny introduces her guest, Bret Heinrich

[01:23] Bret's view on the evolving role of the not-for-profit sector

[03:47] How current programs are transforming the future leaders and the different aspects of the not-for-profit sector

[06:50] Volunteerism in Wings of Hope

[11:06] How the current not-for-profit leadership model can welcome, engage and retain young talent to protect the organization's mission

[12:58] Do younger volunteers want to be more hands-on?

[15:06The responsibility of not-for-profit leaders in demonstrating good stewardship

[20:46] Bret talks about Wings of Hope's Soar Into STEM program

[25:03] Bret's 3 key pieces of advice to help prepare for working with donors
In this episode…
The not-for-profit sector has come a long way so much so that universities are now offering classes focused on fundraising and not-for-profit work. The sector has become more professional in how it approaches its mission and this, according to Bret Heinrich, is a crucial turning point for not-for-profit organizations.
Bret Heinrich, President and CEO of Wings of Hope, now says that the importance of good leadership models and organizational culture are essential in retaining the next batch of future leaders in embracing the mission of the organization without losing focus.
In this episode, Penny and Bret talk about the evolving role of the not-for-profit sector, servant leadership and volunteerism, the importance of welcoming and engaging young talent into the organization's fold, and the SOar Into STEM program of Wings of Hope. Stay tuned.
Subscribe and Listen on:
Resources Mentioned in this episode
Connect with Penny
Sponsor for this episode
This episode is brought to you by Philanthropy212,  a fundraising consulting company focusing on helping not-for-profit organizations to build sustainable practices and programs that raise more money. Philanthropy212's founder, Penny Cowden, has 25 years experience in the industry & has helped raise more than $100 million for non-profits such as PeaceHealth, Sisters of Charity, Inova Health System, Banner Health System and Sun Health.